The first thing you should know about this game is that it is not available in English. But if you are a true game lover this small fact should not prevent you from playing this terrific game!
This game is perfect for those of you who are looking to keep busy or for those who have always dreamed of opening a business from scratch!  This game is designed to give it's players the look and feel of the 1900′s which makes the visuals super cool and very different from other games in the market.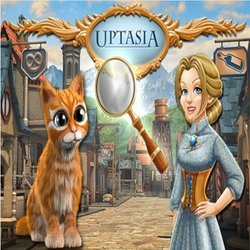 This game enables traveling back in time. You'll be able to experience the time of industrialism open a business and maybe even build an empire!
You will also have to find hidden objects which makes this game all that more exciting because in order to gain points and improve your businesses status you will need to search and find the hidden objects. It may take several stages to find certain objects.
A player has only 60 seconds to find the items  and click on them. The faster you find the objects the more points you'll receive. you can choose different challenges and adventures to explore. you can also build  villages and try to bring as many players as possible to help develop your business.

Uptasia is an incredibly fun and challenging  game that will keep you busy and entertained. The games visuals are truly unique and really do give you the feeling that you are int he 19th century. You will absolutely love this game! Play Uptasia now!